Babe is visiting friends at the country club...
I know many of you have been anxiously awaiting our turn to see Babe's new family and so I thought I would share this with you.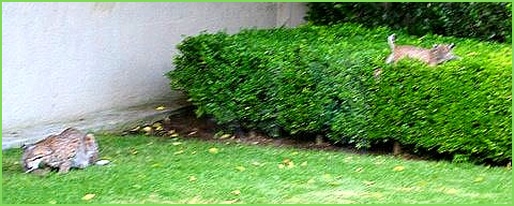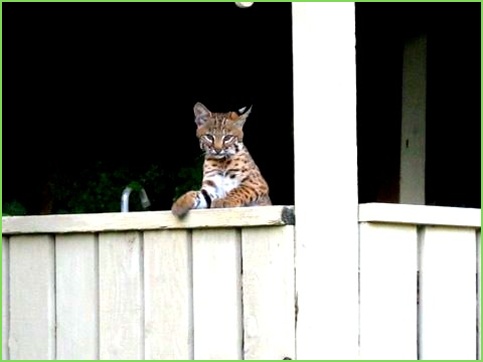 Earlier today our friends at Newport Animal Control asked me to stop by a residence within the Big Canyon Country Club and talk with a resident. When I got there the owner of the house shared pictures they had been taking over the past two days of a bobcat mother and her three kittens. The photos clearly showed Babe with her distinctive yellowish ear tag playing in the backyard with her offspring. The youngsters were acting like typical kids and had been trying to walk on top of the hedge. What a riot to see them sinking in to the shrubbery and then trying to gracefully get out. Babe's new found friends have a large playhouse on the hillside behind the palatial residence and Babe and the kids had taken over this guest house as their own for a couple of days. Knowing her, she will not overstay her welcome but will move on to warm the hearts of other animal lovers but before going she left several little gifts for the gardener that indicated to me that she has been eating well.

Babe is a class act and stays in only the nicest places. We hope to see her back in the Back Bay before long.